At Healers Institute of Deaddiction and Psychiatry we cure every patient separately whenever we program their detoxification. We locate out from the sick person until when they may have been consuming alcohol, the amount they were consuming whenever they last drank an alcoholic beverage. We assess their blood alcohol level, height, as well as weight along with the physicians; make use of almost all appropriate aspects to estimate a suitable dosage of the needed reducing treatment.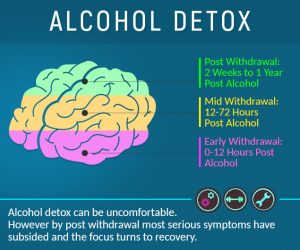 What is Alcohol Detoxification?
When individuals turn out to be influenced by alcohol their mind, as well as the neurological system, require alcohol to work typically. Alcohol addicted people consume increasing amounts of alcohol as their persistence to alcohol grows.
Unexpectedly ending alcohol for regardless of the reasons can be quite risky. It is ideally very unpleasant – at most awful, it may be lethal. For that reason it is important that folks are securely detoxed in an alcohol detoxification centre under healthcare supervision, making use of the appropriate dosage of substitute drugs.
How Much Time Does Alcohol Detoxification Take?
Alcohol withdrawal signs may appear in hours of latest use of alcohol, however, may appear days later on as well as could keep on for about months possibly without more liquor use. Alcohol withdrawal is among the most serious as well as harmful substance withdrawal as well as detoxification procedures, along with opiates as well as benzodiazepines.
The time of detoxification differs from individual to individual based on personal level variations like overall health, health problems, as well as use history. Moreover, it depends upon the environment wherein an individual detoxes. Detoxification at our centre is medically closely watched as well as could take from a couple of days around 14 days and will as well rely on every patient's healthcare condition.
Dangers of Alcohol Detoxification
Detoxing from alcohol without healthcare assistance could be risky, particularly if the sick person is consuming heavily for years.
Whenever individuals lack appropriately monitored detoxification in a healthcare environment, they could expertise heavy perspiring, tremors, headache, queasiness or even throwing up as well as sensory disorder. Very extraordinary withdrawal responses include seizures or even delirium tremens.
That is the reason individuals need to be gradually detoxed from alcohol making use of substitute drugs which assistance the functioning of the mind as well as the neurological system where the patient is usually monitored.
Where Do Patients Live Throughout Detoxification at Healers Institute of Deaddiction and Psychiatry?
Patients going through detoxification live at Healers Institute of Deaddiction and Psychiatry comprehensive treatment unit– situated in Healers Institute of Deaddiction and Psychiatry building. They reside together with individuals who have completed their detoxification. Nevertheless, you can find committed detoxification bedrooms located opposite a nursing department to enable them to be frequently supervised.
What Goes On after Detoxification?
We highly recommend that patients remain as well as complete a minimum of six weeks of medical treatment at Healers Institute of Deaddiction and Psychiatry following detoxing at our centre.
Withdrawal Signs from Alcohol Detoxification
The purpose of alcohol detoxification at Healers Institute of Deaddiction and Psychiatry would be to reduce withdrawal signs to an easy level. Gentle signs of alcohol withdrawal consist of:
Anxiety
Craving
Trembling
Sweating
Difficulty resting
Agitation
Nausea / retching
Vomiting
Worse signs consist of :
Hallucinations
Seizures
Convulsions
Delerium Tremens
The nurses at Healers Institute of Deaddiction and Psychiatry rehabilitation centre are educated to monitor for signals of liquor withdrawal, so this procedure will begin when the sick person is admitted. The patient's withdrawal indications are checked as well as documented frequently by the nursing staff.