Ahead of talking about Esctasy Addiction, let's translate some terms, which will make it easy for anybody to understand what service we at Healers Institute of Deaddiction and Psychiatry offer.Ecstasy is a neurological system stimulant as well as a psychoactive substance widely used recreationally in event scenes like clubs. It is usually sold illegally as capsules or even pills. Whenever taken orally, the impacts start after 30-45 minutes as well as last between 3 to six hours.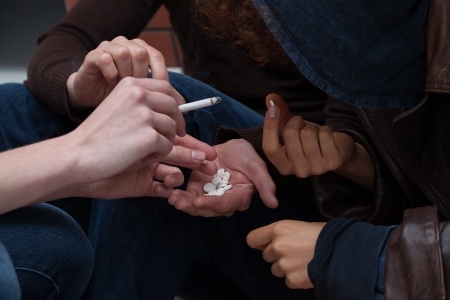 Stages of Ecstasy addiction
The initial phase in being addicted to Esctasy is the start, in which the person is presented to the substance for the very first time. The first time is normally because of intrigue or even peer pressure. Due to ecstasy's standing as a bash substance, most are presented to the substance in event scenes like clubs as well as raves. For a few, this result in the 2nd step, that is testing.
Testing happens whenever the consumer starts to use the substance in particular situations, like events or even demanding occasions. The subsequent phase, consistent usage of the substance, grows whenever the consumer has set up a tendency of substance use, particularly in single scenarios. It goes on to risky use, in which misuse of the substance goes on in spite of noticeable ramifications on different factors of the individual's living. It is generally a consequence of reliance on the tablet that could after that result in dependence.
Effects of Ecstasy Misuse
The adverse, negative effects of ecstasy misuse could be felt whereas the consumer is high, or even after the psychoactive impacts of the substance have waned. Persisted abuse of ecstasy can result in lasting adjustments in the psyche. It is because ecstasy exploits the brain's incentive process, needing the consumer to take a lot more to attain a similar high. The accumulation of the afflicted neurotransmitters might lead to neurological degeneration together with lasting psyche deterioration. The results of ecstasy on our bodies could be split up into bodily as well as mental effects, which range from minor to severe.
Ecstasy Addiction Treatment at HIDP
At Healers Institute of Deaddiction and Psychiatry, the therapy procedure for ecstasy dependence starts with healthcare detoxing. At Healers Institute of Deaddiction and Psychiatry, you'll be surrounded by physicians as well as nurses who can examine your withdrawal signs together with assist you deal with them. The signs seem as the body attempts to get rid of the outstanding poisons whereas trying to re-adapt to the lack of the substance.
Withdrawal could be an incredibly unpleasant process; this is why 24 hours a day treatment is offered by healthcare staff. Withdrawal signs usually are managed without using drugs. Nevertheless, in serious instances, this might consist of the usage of substitute prescriptions to assist you to get off the substance. As soon as detoxification is finalized, the subsequent phase is therapy, in which mental therapy is employed to deal with the mental part of your addiction.
It also consists of loved one treatment as well as periods on sustaining sobriety. The conclusion of rehabilitation is pursued by aftercare, in which you will likely be linked with self-help groups in the community to ensure you have got almost all the assistance you should sustain your sobriety.
How treatments influence ecstasy consumers
Whereas HIDP's counsellors would offer counselling as well as treatment throughout the detoxing process, most of these sessions still happen in our Healers Institute of Deaddiction and Psychiatry rehab centre after detoxing. Mental therapy performs a significant part in dependence recuperation. It calls for the use of holistic treatments like Cognitive Behavioural Therapy (CBT) as well as DBT, along with different restorative routines. CBT functions by stimulating you to change harmful thoughts as well as thoughts which will have ended in, or even contributed to, your substance use as well as ultimate dependence.
Through CBT treatment, you would be able to concentrate on constructive thinking whereas getting rid of grave behaviours. Dialectical Behavioural Treatment makes use of a team set up to educate the skills required to manage bad feelings, fix interactions, as well as reunite with culture. Healers Institute of Deaddiction and Psychiatry provides 12-step treatment, consisting of a major component of spirituality included in the recuperation procedure. Restorative activities like yoga as well as meditating tend to be integrated into the treatment.
What's in ecstasy?
Ecstasy is an artificial substance which you'll never get over the counter as natural ecstasy because of the shortage of raw materials. The powder kind of the substance is usually toxified with toxins like bath salts, cocaine, as well as heroin.
What is ecstasy designed for?
Ecstasy is mostly made use of by teenagers in social events like all-night events which is a stimulant, and therefore it keeps you energetic. It is well-liked for the selection of bodily, mental as well as interpersonal effects experienced by customers.
How to Treat Ecstasy Addiction?
We at Healers Institute of Deaddiction and Psychiatry help you understand what makes you dependence to Ecstasy, as well as make sure that you look for assistance as soon as you know that you might have been afflicted. It is usually vital that you be well-informed on the addictive elements of ecstasy. It could stop you from making use of ecstasy as well as developing a practice with the substance.
Can you get high on ecstasy?
Ecstasy generates feelings of euphoria, understanding, as well as, sometimes, hallucinations most of which are attributes of being 'high.' The mind-altering outcomes are generated by the discharge of neurotransmitters, particularly serotonin, dopamine as well as norepinephrine. The final 3 to 6 hours, as well as consumers frequently take a lot more doses to sustain the high.